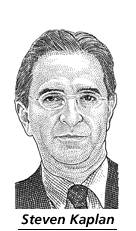 Source of image: online version of the WSJ article quoted and cited below.
(p. B3) What are the traits that chief executives of successful companies share? A new study suggests that hard-nosed personal virtues such as persistence and efficiency count for more than "softer" strengths like teamwork or flexibility.

The findings are sure to intensify debate about how much toughness is appropriate in a CEO. Some famously hard-charging bosses of big companies have retired or been shunted aside in recent years. Successors at companies such as General Electric Co., International Business Machines Corp. and Hewlett-Packard Co. are seen as quieter, less strident team-builders.

But the new study, by three University of Chicago business-school professors, draws on detailed personal assessments of 313 CEO candidates to present a starker view of good leadership's ingredients. Of these candidates, 225 were hired. Their subsequent performance fuels most of the study's conclusions.

"We found that 'hard' skills, which are all about getting things done, were paramount," says lead author Steven Kaplan, a professor of finance and entrepreneurship. "Soft skills centering on teamwork weren't as pivotal. That was a bit of a surprise to us."

Prof. Kaplan and colleagues Mark Klebanov and Morten Sorensen didn't size up the CEOs themselves. Instead, they tapped into a consultant's database long coveted by academic researchers. It contains assessments of individuals' strengths and weaknesses compiled by ghSmart Inc. The Chicago management-assessment company evaluates CEO candidates on behalf of corporate clients.
For the full story, see:
GEORGE ANDERS. "THEORY & PRACTICE; Tough CEOs Often Most Successful, A Study Finds." The Wall Street Journal (Mon., November 19, 2007): B3.
Included with the WSJ article was an interesting summary table:
LEADING PROFILE

Here are five CEO traits that correlate most closely with business success at buyout companies — and five that score lowest, according to University of Chicago researchers.

Traits that matter…

• Persistence
• Attention to detail
• Efficiency
• Analytical skills
• Setting high standards

…and not so much

• Strong oral communication
• Teamwork
• Flexibility/adaptability
• Enthusiasm
• Listening skills