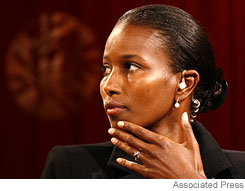 "Marked for death: Ayaan Hirsi Ali." Source of caption and photo: online version of the WSJ commentary quoted and cited below.
(p. A15) Criticism of Islam, however, has led to violence and murder world-wide. Ayatollah Khomeini issued a fatwa calling for Muslims to kill Salman Rushdie over his 1988 book, "The Satanic Verses." Although Mr. Rushdie has survived, two people associated with the book were stabbed, one fatally. The 2005 Danish editorial cartoons lampooning the prophet Muhammad led to numerous deaths. Dutch director Theodoor van Gogh was killed in 2004, several months after he made the film "Submission," which described violence against women in Islamic societies. Ayaan Hirsi Ali, a former Dutch member of parliament who wrote the script for "Submission," received death threats over the film and fled the country for the United States.
The violence Dutch officials are anticipating now is part of a broad and determined effort by the radical jihadist movement to reject the basic values of modern civilization and replace them with an extreme form of Shariah. Shariah, the legal code of Islam, governed the Muslim world in medieval times and is used to varying degrees in many nations today, especially in Saudi Arabia.
Radical jihadists are prepared to use violence against individuals to stop them from exercising their free speech rights. In some countries, converting a Muslim to another faith is a crime punishable by death. While Muslim clerics are free to preach and proselytize in the West, some Muslim nations severely restrict or forbid other faiths to do so. In addition, moderate Muslims around the world have been deemed apostates and enemies by radical jihadists.
For the full commentary, see:
PETER HOEKSTRA. "Islam and Free Speech." The Wall Street Journal (Weds., March 26, 2008): A15.