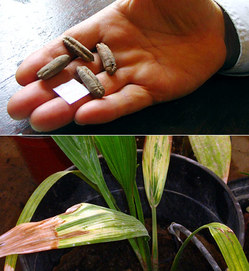 "One of a handful of 2,000-year-old seeds (top) from the fortress of Masada in present-day Israel grew into a date palm plant (bottom) called Methuselah in 2005." Source of caption and photos: online article quoted and cited below.
The oldest-sprouted seed in the world is a 2,000-year-old plant from Jerusalem, a new study confirms.
"Methuselah," a 4-foot-tall (1.2-meter-tall) ancestor of the modern date palm, is being grown at a protected laboratory in the Israeli capital.
In 2005 the young plant was coaxed out of a seed recovered in 1963 from Masada, a fortress in present-day Israel where Jewish zealots killed themselves to avoid capture by the Romans in A.D. 70.
For the full story, see:

Anne Minard. ""Methuselah" Tree Grew From 2,000-Year-Old Seed." National Geographic News online (June 12, 2008), downloaded on 6/19/08 from: http://news.nationalgeographic.com/news/2008/06/080612-oldest-tree.html