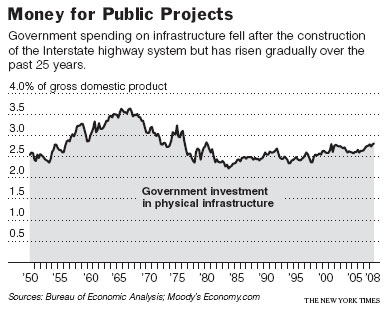 Source of graph: online version of the NYT commentary quoted and cited below.
(p. B1) It's hard to exaggerate how scattershot the current system is. Government agencies usually don't even have to do a rigorous analysis of a project or how it would affect traffic and the environment, relative to its cost and to the alternatives — before deciding whether to proceed. In one recent survey of local officials, almost 80 percent said they had based their decisions largely on politics, while fewer than 20 percent cited a project's potential (p. B6) benefits.

There are monuments to the resulting waste all over the country: the little-traveled Bud Shuster Highway in western Pennsylvania; new highways in suburban St. Louis and suburban Maryland that won't alleviate traffic; all the fancy government-subsidized sports stadiums that have replaced perfectly good existing stadiums. These are the Bridges to (Almost) Nowhere that actually got built.
For the full commentary, see:
DAVID LEONHARDT. "Economic Scene; Piling Up Monuments of Waste." The New York Times (Weds., November 18, 2008): B1 & B6.