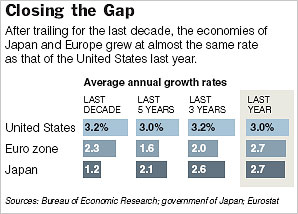 Source of graphic: online version of the NYT article cited below.
It would be interesting to explore why the gap in growth rates was smaller last year than previously. Was it a statistical fluke? Or did the U.S. labor market become somewhat less flexible? Or maybe the job market in Europe and Japan became somewhat more flexible?
FOR more than a decade, many American economists have pointed to Europe and Japan as prima facie evidence that layoffs in the United States are a good thing. The economies in those countries were not nearly as robust as this country's. And the reason? Too much job security in Europe and Japan, the economists said.

American employers, in sharp contrast, have operated with much more "flexibility." Hiring and firing at will, they shift labor from where it is not needed to where it is needed. If Eastman Kodak is struggling to establish itself in digital photography, then Kodak downsizes and labor moves to industries and companies that are thriving — software, for example, or health care, or Wal-Mart Stores or Caterpillar.

This shuffling out of one job and into another shows up in the statistics as nearly full employment. Never mind that the shuffling does not work as efficiently as the description implies or that many of the laid-off workers find themselves earning less in their next jobs, an income roller coaster that is absent in Europe and Japan. A dynamic economy leaves no alternative, or so the reasoning goes among mainstream economists.

"Trying to prevent this creative destruction from happening is a recipe for less economic growth and less productivity," said Barry Eichengreen, an international economist at the University of California, Berkeley.
For the full commentary, see:
LOUIS UCHITELLE. "ECONOMIC VIEW; Job Security, Too, May Have a Happy Medium." The New York Times, Section 3 (Sun., February 25, 2007): 5.